Wrexham Can Do and The Priory: Part four
Susan

---
We chatted to Susan about our Can Do project in Wrexham.
After months of planning, preparation, and wading through the red tape and paperwork of getting planning permission, the participants at the Priory have been thrilled to see work taking place in their garden.
Earlier this month, Richard Lewis, who is our lovely garden designer and teacher, from Erlas Victorian Walled Garden, alongside Mark Fisher, the contractor, set to clearing the smaller shrubs and trees from the area, as well as removing several tons of ivy from the ground and walls.
Some of the participants were able to have their first sessions with Richard, actually getting hands on with the work involved — and they loved it!
---
Out with the old
Richard and Mark were also working hard – reluctantly, we had to make the decision to remove an old plum tree – it was diseased and non-productive, and wasting space (it is going to be replaced with 6 new fruit trees though).
The next big excitement was the crown reduction and lifting of two of the large chestnut trees – and the removal of the third.
The participants were disappointed to find out that they couldn't help with this particular task —participants until they saw Simon Cope, our tree surgeon, climbing up the trees.
With his chain saw in tow, the participants saw how high he had to climb — and the vast majority decided that they were happier staying on the ground.
---
Lighting the way
It took one full day to remove the tree, and another to give the remaining two tree's a haircut! As you can see, the students were really happy to see the work done, and thrilled by the amount of light that can now get into the garden.
The next stage is to mark out where the paved areas will be, and get a crew in to lay them. Then the participants will help with the laying of weed suppressant material and bark chips – and then the planters and seating can go in.
The participants are going to start work on the greenhouse, and hopefully have a session or two with the National Trust gardeners at Erddig whilst this is going on.
Everyone is so pleased to see the progress of the last couple of weeks — it's lovely to see all the plans finally becoming a reality!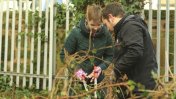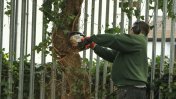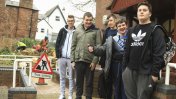 National Garden Scheme
Our Can Do Gardening projects are funded by National Garden Scheme.
Find out more