Why we're campaigning for accessible train travel
---
Through the Get On Board campaign, we're calling for a new law to make all rail travel in Britain accessible by 2030. Here's why we're campaigning for #TrainsForAll.
Life has surprises. You can't always give 24 hours notice to travel. Freedom to travel on the day would be lovely.

Grace, one our campaigners
1. Rail connects us to friends and family, hobbies, fun and more …
But inaccessible rail networks keep us apart.
'If trains were accessible I would be able to visit my daughter. It would open up so much to me.' — Alison
2. 38% of stations in Britain do not have step-free access
Meaning, many disabled passengers can't access stations.
3. If station upgrades continue at their current rate, the rail network won't be fully accessible to disabled people until 2070.
Yes, you read that right. Read why disabled people will currently have to wait until 2070 for accessible trains.

4. Inaccessible rail travel is a barrier to accessing work
'I worry about my future in employment and whether I would be able to be punctual to a job where I had to commute via trains.' — Emily
Read more about Emily's experiences with trains in her blog.
5. Poor station access can be dangerous. 
Lack of assistance, accessible real-time information, and poor physical access make stations dangerous for disabled passengers. Watch the risks Pete has to take each day to catch the train.
6. Disabled passengers are held back from travelling spontaneously
To book passenger assistance disabled people must plan each rail journey in advance, ruining life's surprises …
7. Inaccessible rail travel impacts on disabled people's independence
We should all be able to travel freely, without restriction.
'Disabled people lose their independence because inaccessible trains mean we have to rely on other people.' — Anil
8. Sometimes you can travel, but only in one direction…
Often only part of a station is accessible. As Hannah Rose says, this is completely unacceptable. Watch her video diary:
9. Travel disruption is a huge problem for disabled passengers
Inaccessible stations, trains, and lack of assistance makes travel disruption even worse for disabled passengers.
10. Inaccessible rail travel affects all of us
One in five of us will become disabled at some time in our lives. And, accessible features also help the elderly, parents and people with luggage.
'People are only one illness or injury away from being disabled. We all need to be thinking about accessible rail.' — Kathy
11. It's not rocket science
We've sent people to the moon, yet our rail network is inaccessible to disabled passengers. We're not asking to upgrade to spaceships (yet) just that we can all catch the train.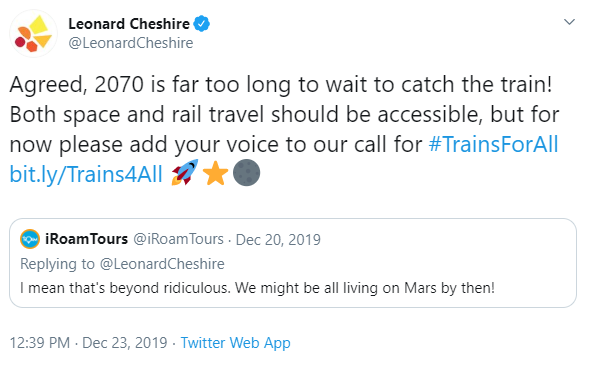 Get on board for trains for all
We want rail travel to be accessible to everyone, from booking tickets to getting on the train, and throughout the journey.
We're calling for a new law that guarantees all rail journeys in Britain will be fully accessible by 2030.
Support accessible transport