Adapting to life in lockdown
Susan Bowles

---
Susan talks about the changes to everyday life during coronavirus lockdown. She also looks at how her role has been adapted so she can continue to support our Bells Piece service in Surrey.
When this is over and the people we support return, fingers crossed they'll be able to step back in and continue to grow.
Well what a changeable time this has been!
When asked to write this blog about my experiences during the coronavirus semi-lockdown in the UK, my first thought was "Can I remember life before?". 
Seeing friends, collaborating with work colleagues, looking forward to future events and fun.
All this had stopped and when I looked at the calendar it was hard to believe it had only been 3 weeks.

Now it's virtual bars via Zoom with friends (silly hats compulsory), and WhatsApp groups with work colleagues. Social events, quizzes and festivals have offered online alternatives to get us through. Technology has become my friend.
Adjusting to the new normal
I have adjusted to the new normal more naturally than I anticipated. Thinking of the anxiety I felt as things started to snowball across the globe, I was split between thoughts about the global impact and the impact on my life. 
I worried for my job security, as shop manager at Bells Piece. The role had recently been created as part of a project to improve their retail presence. I worried for nations with less medical capabilities than ours. I worried for my friends, my family and the people we support at Bells Piece. They brought so much noise and merriment to my working week.
And just like that, the noise was gone. My first day back to work after lockdown was surreal. No customers in the day service, staff cleaning everything and an atmosphere of the unknown.
Brainstorming solutions to work changes
Understandably, I was not allowed to open the shop as the site was no longer open to the public. What would this mean for me? Opportunities and options were shared between colleagues. The situation was so changeable that work on solutions often stopped as swiftly as it started.
We could sell via Facebook selling groups - these groups stopped running. We could contact local clubs and societies - these clubs stopped meeting. We could set up a gazebo at the end of the drive - this might cause an influx of visitors to the site.
It soon became clear that selling was not an option and my job role changed!
Gradually the day service staff were redeployed to support residential services. By the end of March there was only myself and a chef in most days.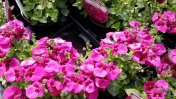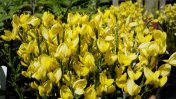 Adapting to my new role in horticulture
Bells Piece provides a great selection of opportunities to the people we support. We have an art studio, training kitchen and horticultural nursery. The studio and kitchen were easy to shut down, clean and secure. Horticulture though, doesn't stop.
Every person we support has their own allotment (will need watering). Thousands of bedding plugs we had planted in the tunnels for early summer sales (still need watering). Seeds were growing (watering), bulbs were sprouting (water) and compost needed rotating (had I mentioned watering?). With most of the horticulture team redeployed I was now helping maintain all of this. 
I'd been a florist for 20 years and my plant knowledge is pretty good but this was something else. The first couple of days were overwhelming. Where to begin, what needed sowing next, what goes where? Thank goodness the weather is on my side..... Or so I thought! Did I mention the watering? 
Over the coming weeks I'm going to keep you updated on my new role. I'll explain what I'm feeling and learning and show you what's developing at Bells Piece. When this is over and the people we support return, fingers crossed they'll be able to step back in and continue to grow.
Protect our carers with PPE
We are doing all we can to stop the spread of coronavirus, save lives and keep people safe. More equipment to protect our carers is urgently needed.
Protect our carers with PPE