Strictly Cymru
Get your groove on with Strictly Cymru — Wales' first and only inclusive dance competition.
No dance experience required, just a willingness to move to the beat.
Strictly Cymru is back with a brand new digital final. This autumn our dancers will learn routines via digital dance tutorials and 121 video calls. We'll even get together for a virtual afternoon tea.
Watch the final live stream
Massive thank you
We'd like to say a big thank you to everyone who helped make Strictly possible including the Simon Gibson Charitable Trust and the David Solomons Charitable Trust.
Meet our finalists and instructors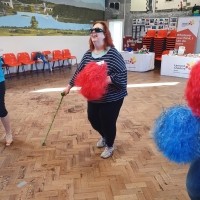 Sharon
'Strictly has given me the opportunity to be me again and I've loved it!'
Sharon wowed the judges at our Anglesey heat with her samba steps and swivelling hips.
Sharon will be working with Lizzie and dancing Freestyle to a Pink track.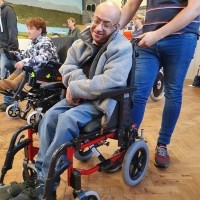 Ranj
Ranj was our winner from Anglesey.
Ranj loves his Rock n Roll, especially Elvis. We cant wait to see him perform to Jail House Rock.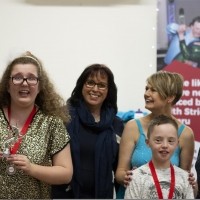 Ellen and Kaylem
Ellen and Kaylem were so confident and full of energy at the Wrexham heat that the judges were compelled to put them both through to the final. We can't wait to get them back on the dance floor with their musical theatre inspired routine.
Ellen and Kaylem will be performing a musical theatre routine to a track from The Greatest Showman with Lizzie.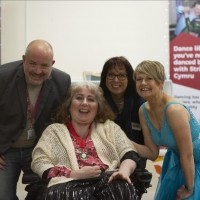 Helen
This is Helen's third Strictly Cymru and her second time in the final. Helen razzle dazzled the judges with her version of All that Jazz from the hit musical Chicago.
Helen will be working with Lizzie to revisit and refine her version of All that Jazz. Helen loves the musical Chicago and can't wait to get started.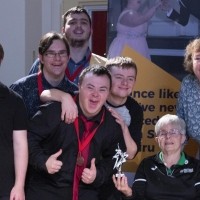 Toby, Thomas, Keiron and Richard
Carmarthenshire finalists
Carmarthenshire finalists, Toby, Thomas, Keiron and Richard were full of life and pizazz when we met them back in January.
The boys will be dancing to Michael Jackson's Smooth Criminal, working with our Head Dance Instructor Louise Bowman from the award-winning inclusive dance school, Impetus Dance.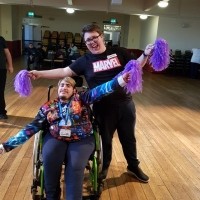 Chad
Chad is our wheelchair finalist from the Carmarthen heat.
Chad will be working with Louise to create a freestyle street routine to Imagine Dragon's Believer. We cant wait to see the end result!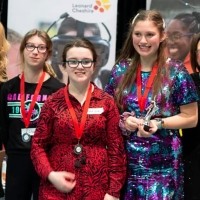 Rebecca, Chloe and Anesha
These girls were in sync from the first beat. They nailed their final dance and delivered a truly inspiring performance.
The girls will be dancing to a Justin Bieber track and working with Helen.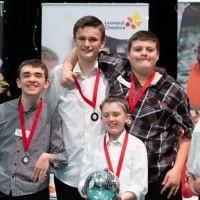 Riley, Iwan, Morgan and Dylan
Introducing our Wild Card Act. The standard was so high in Bridgend that the judges had to put through the boys from Heronsbridge School.
The boys will be working with Helen and dancing a Latin Medley to Marron 5.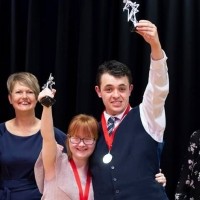 Daniel and Carys
Real life couple Daniel and Carys melted the judge's hearts with a captivating performance at our Cardiff heat.
Daniel and Carys will be working with Helen and dancing a contemporary routine.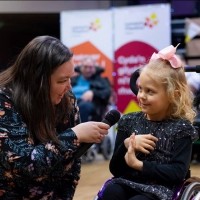 Inga
Our youngest competitor at Strictly Cymru 2020, 5 year old Inga took the whole audience on a journey to Arendelle with her Frozen inspired routine.
Inga will be performing a contemporary piece to a song from Frozen 2, choreographed by Helen.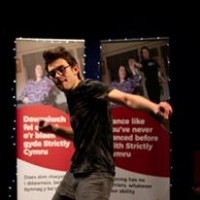 Matthew
Matthew's performance had style and substance, smashing the routine and choreographing his own disco inspired moves to secure his place in the final.
Matthew will be dancing a Latin inspired routine to a Queen track, choreographed by Charlotte.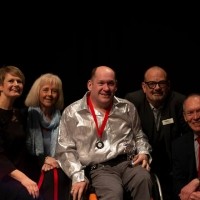 Robin
Inspired the success of his life partner Dianne at the Strictly Cymru final in 2019, Robin hit the dance floor at our Newport Heat. His slick shoulder rolls and control of his chair won the judges over. Robin can't wait to learn his Latin inspired routine for the grand final.
Robin will be working with Lou and dancing to Havana by Camila Cabaeo.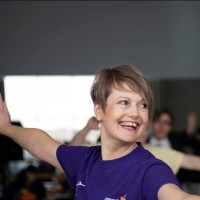 Louise
Head Dance Instructor, Louise Bowman of award-winning inclusive dance company Impetus Dance will be leading a team of 3 instructors to deliver the Strictly Final.
Louise will be working with 3 of the 12 finalists. Her passion for inclusive dance is unrivalled.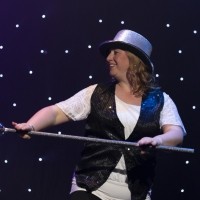 Lizzie
Lizzie Rae Large, of West Oxfordshire Wheelchair Dance, also returns to Strictly Cymru for the second year. Lizzie's loves pompoms, sparkles and musical theatre as well as other genres of Dance and performs a wonderful Charleston. Lizzie will be working with 4 of the twelve final acts.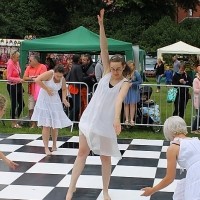 Helen
Helen Mason, of Freewheelin School of Dance, joins us for her first Strictly Cymru experience. Helen is a Paradance trained instructor and will be working with 4 of the final acts.
Find out what happened in the heats