Sian Welby's butterfly cupcakes
Sian is supporting Give and Bake by sharing her mum's recipe for butterfly cupcakes.
Ingredients
For cupcakes
160g unsalted butter, softened
160g golden caster sugar
3 medium free-range eggs, beaten
160g self-raising flour
2 tsp vanilla bean extract
For buttercream
160g unsalted butter, softened
270g icing sugar
1 tsp vanilla bean extract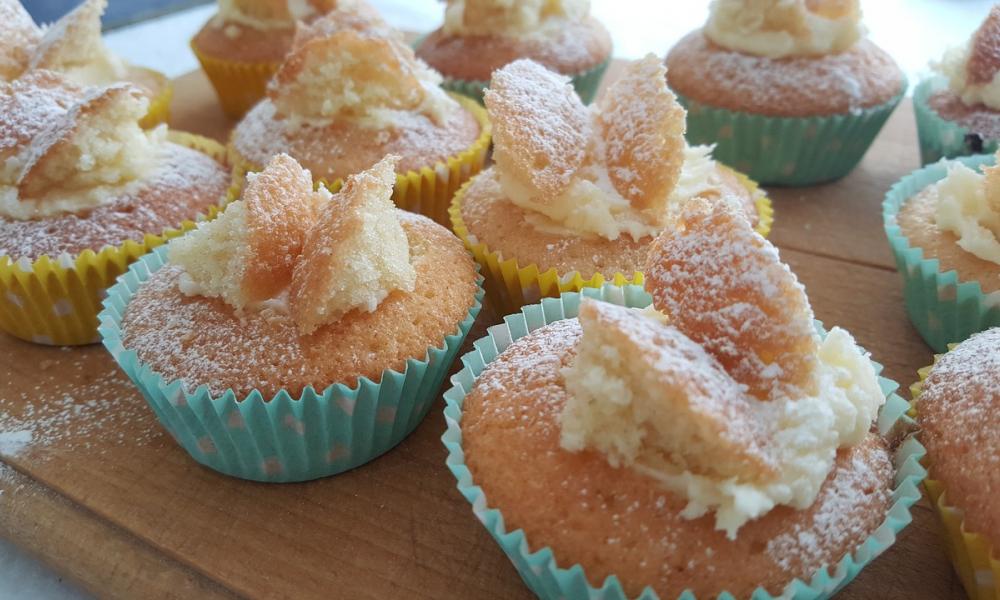 Method
For cupcakes
Preheat the oven to 180°C (160°C fan assisted, 350°F, gas mark 4) and line 2 x 12-hole cake tins with paper cases.
Cream the butter and sugar together in a bowl until pale. Beat in the eggs, a little at a time, and stir in the vanilla bean extract.
Fold in the flour using a large metal spoon.
Spoon the mixture into the paper cases until they are half full.
Bake in the oven for 8-10 minutes, or until golden-brown on top and a skewer inserted into one of the cakes comes out clean.
Set aside to cool for 10 minutes, then remove from the tin and cool on a wire rack.
For buttercream
Beat the sifted icing sugar and butter together with your vanilla bean extract.
Add 2-3 tablespoons of boiling water to loosen and beat until smooth.
Decoration
Once cupcakes have cooled, use a small sharp knife to cut a circle of cake out of the top of each cupcake leaving a small border.
Cut each cake circle in half to make butterfly wings.
Fill each of the small holes with buttercream and then place your cake wings on top.
Bake for a cause
Use Sian's recipe for a good cause — host a Give and Bake party!