Digital skills course
What is the digital skills course?
Our digital skills course delivers digital and work skills for disabled young adults.
The course is delivered using an engaging combination of remote and in-person sessions and delivery is flexible in terms of time for sessions.
Who is the course for?
Our YES Project is aimed at groups of disabled young adults aged 16-25.
Our course is facilitated and delivered by a Leonard Cheshire staff member and tailored to the disability needs of your learners.
Where is the course delivered?
Basingstoke
Chester
Sheffield
Peterborough
Tunbridge Wells
York
Register your interest
Fill in our form and we'll put you in touch with your nearest coordinator.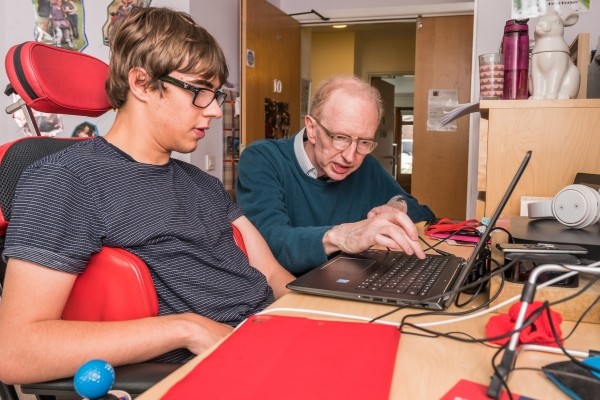 What they'll learn on our course
If some of these subjects are not relevant for your learners, we can substitute other appropriate subjects – just get in touch and we can discuss your particular needs.
Online safety
The online world can be a very scary place, yet it's also one that's becoming increasingly essential in workplaces. This module helps clients prepare for the world of online work whilst staying safe.
Young entrepreneur skills (2 sessions)
Clients will learn the pros and cons of running a business, find out where they can get support as a young business owner and start to develop their own business idea. They will also learn some of the key presentation skills they need to deliver their business pitch, have a chance to practice with their peers, and may even win a prize!
CV Skills
Being able to tailor a CV to a role can really help your clients ensure they are shortlisted. A clear concise and dynamic CV will help them stand out from the crowd.
Understanding disability rights in the workplace
Clients will have a clear understanding of what their rights are within the workplace and how to manage their needs and environment.
Interview prep and skills
Once over the hurdle of application, the idea of being interviewed can be daunting. Your clients will learn how to prepare for and present themselves at interview to their best advantage.
World of work and range of roles
An overview of the types of roles available in the wider world of work and the different types of employment will help your clients broaden their understanding of opportunities available, as well as teach them how to research and find the right role for them.
Working with John Lewis Partnership
Our YES (Young Entrepreneur Skills) project is funded by John Lewis Partnership to support young disabled adults develop their digital and work skills.