Anna Jones's ultimate pecan banana bread recipe
Food blogger Anna Jones is supporting Give and Bake by providing us with this beautiful banana bread recipe.
Ingredients
75ml melted coconut oil, plus extra for greasing
200g pecans (walnuts work too)
200g rolled oats
four large ripe bananas
100g coconut sugar, plus one tablespoon (optional)
100ml maple syrup
100ml unsweetened almond milk
two teaspoons baking powder
a good pinch of caraway seeds (optional)
75g dark chocolate (70%)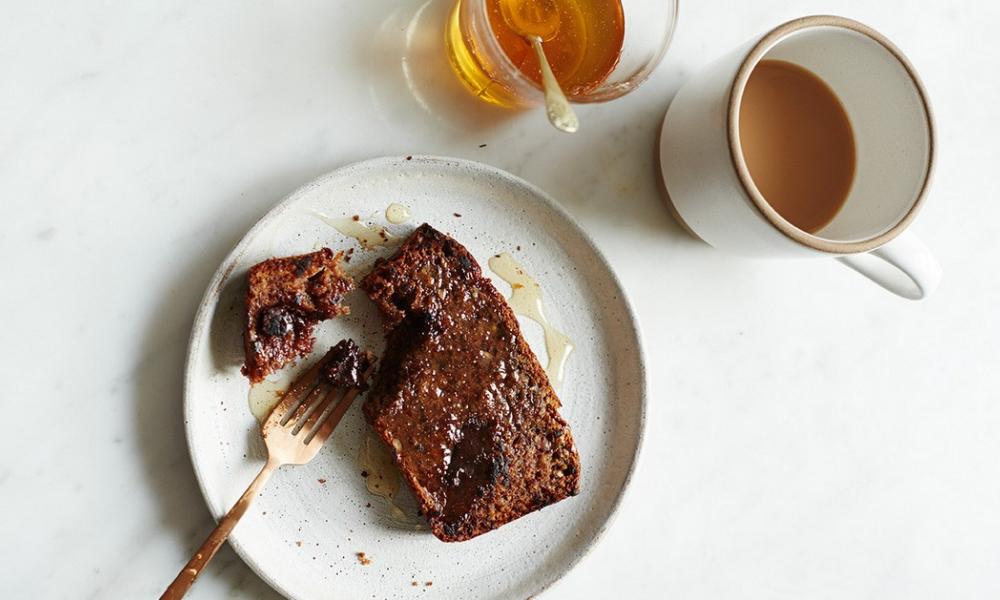 Method
Preheat the oven to 170°C/150°C fan/gas mark 3 and get all your ingredients together. Grease a 900g non-stick loaf tin with coconut oil.
While the oven comes up to temperature, roast the pecans in it for 10 minutes, then roughly chop and set aside.
Meanwhile, blitz the oats in a food processor until you have a scruffy flour. Put the oat flour into a bowl.
Put the bananas into the food processor with the 100g of coconut sugar, maple syrup, almond milk and melted coconut oil and blitz until well combined.
Add the oat flour, baking powder and a good pinch of salt. Blitz until combined, then stir in the pecans. Add the caraway seeds, if using.
Pour half the batter into the loaf tin. Break the chocolate up into thin strips and lay it along the middle of the batter, leaving space at the end. Pour in the rest of the batter and top with the extra spoonful of coconut sugar.
Bake for 1 hour 10 minutes, or until a skewer comes out clean. Leave to cool on a wire rack for at least 30 minutes.
This recipe comes from the book Anna's Way to Cook. Photos by Matt Russell.
Bake for a cause
Use Anna's recipe for a good cause and host your own Give and Bake party!