Our partnership with The Scouts
Do you help run a Scout Group? Find out how your group can volunteer
A Million Hands and Leonard Cheshire
Welcome!
Here you can find all the information you need to start taking action to improve the lives of disabled people.
Our mini resource packs
Download our new resource packs for Beavers, Cubs, Scouts and Explorers and Network.
These packs contain instructions for activities to support your group to achieve the Community Impact Staged Activity Badge.
The activities will also contribute to many other badges and awards including the Disability Awareness Activity Badge.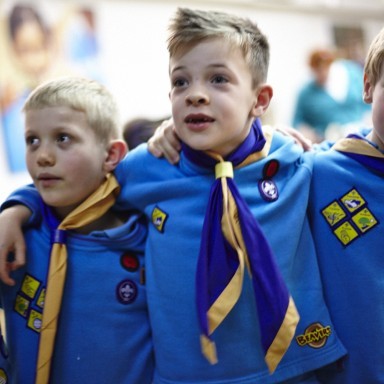 Activities include:
Inclusive Games Pack: Choose from our fun games designed to introduce inclusion to your group.
Inclusive Fun Event: Plan and deliver an accessible and inclusive activity or event with a disability group in your community. Find some of our activity ideas.
Inclusion Poster: Create a big poster highlighting everything that your group has learned so far about disability and inclusion.
Stay connected: Build a longer connection with the disability group by inviting them to one of your regular activities.
Book a Leonard Cheshire speaker. Speakers can also help with delivering some of the activities.
More social action ideas
For general enquiries or additional information, please email us or call 07793 801512.